ADOBE CAPTIVATE TRAINING
Learn how you can create fully functional e-learning courses on your own in Adobe Captivate.
It's okay to feel silly
From where we come, 80% of our population are introverts. It means that most of us are a bit shy, not so good with comunication and we are deadly afraid of phone calls. And sometimes it's hard for us to reach out and ask for help.
That's why we came up with the idea of FasterCourse Training program where anyone can access the information and learn what they want at the exact time when they need it.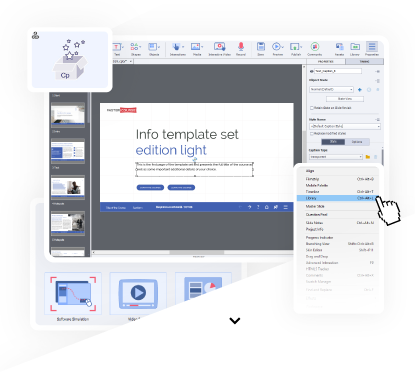 Classes for Beginners
Get Started with Adobe Captivate
Learn how to create an amazing and fully interactive elearning with Adobe Captivate! Make your first step today!
Classes for Experienced users
Achieve more with Adobe Captivate
Advanced actions, variables and games – learn how to create advanced interactions in Adobe Captivate on your own.
Captivate Training Features
Lessons in Adobe Captivate 2019
All classes
40 lessons
1h 24m
Introduction to Adobe Captivate 2019 – FREE CLASS
7 lessons
17:50
Groups in Adobe Captivate
3 lessons
06:12
Library in Adobe Captivate
4 lessons
05:26
States in Adobe Captivate
3 lessons
07:27
Button Types in Adobe Captivate
4 lessons
08:25
Variables in Adobe Captivate
5 lessons
09:58
Alignment Options in Adobe Captivate
3 lessons
06:36
Fluid Boxes in Adobe Captivate
11 lessons
21:49
We put 12 years practice into bite-sized learning videos to help you achieve more with Adobe Captivate.
Learn Adobe Captivate the easy way
Get access to all training videos and practice files and start learning Adobe Captivate today!