Yet another year has passed – and this means that it's time for our annual TOP 5! We've analysed the data and the results are in, so keep reading to see which elearning templates were the most popular among our users in 2019.
Articulate Storyline Templates – Top 5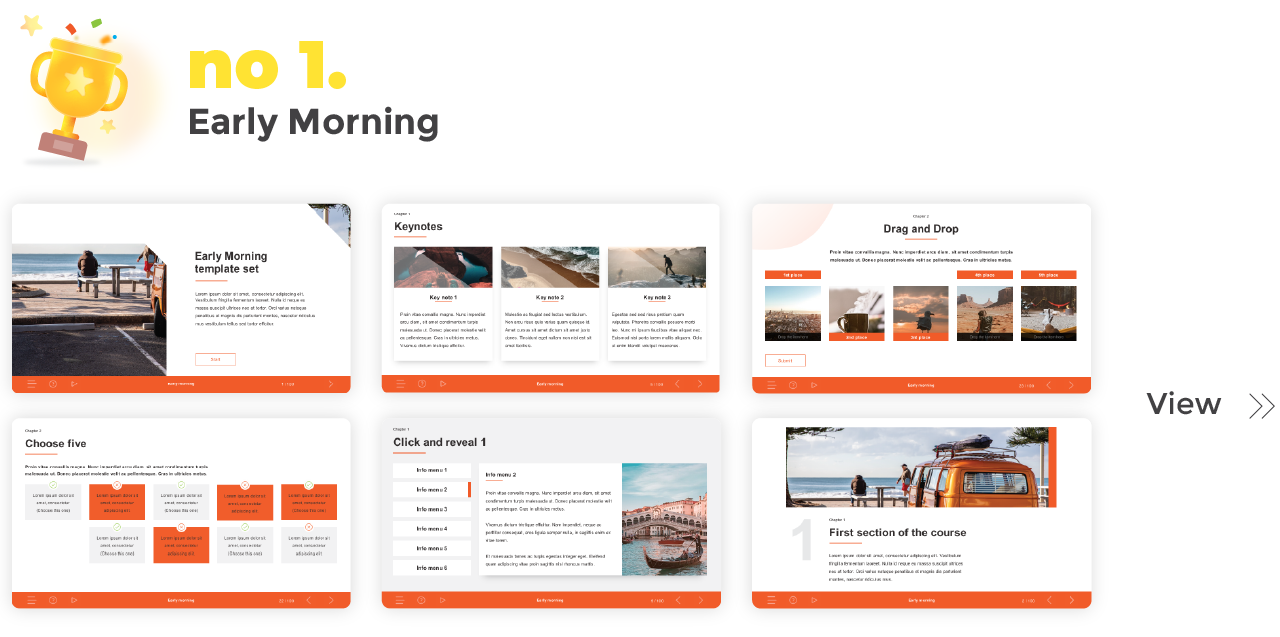 1. Early Morning
We're extremely happy to see that one of our newest template sets has won the hearts of many of our users! And it's no wonder – these beautiful and vibrant templates offer many great options for structuring information in interesting and engaging ways. The set also includes several test templates, making this a great choice for any elearning project!
2. AML
Our Anti-Money Laundering template set has been going strong for several years in a row, proving that this specific theme is still topical for elearning. This template set is a smart choice if your training deals with finance-related topics and requires you to present lots of information as well as great amounts of data.
3. Adventure Orange
Last year's front-runner is still attracting many users and understandably so, as it really has a lot to offer. Not only is it good-looking and will lend itself to any topic – it's also very practical, providing great options for presenting different amounts of text and images as well as some engaging test templates.
4. City
Interestingly, an oldie (but goodie!) has made a comeback this year, taking the 4th spot in our TOP. And why not? It just goes to show that a simple and sleek design will never go out of style.
5. Glossary
Finally, the Glossary template set takes the final spot in the TOP. Apart from the extremely useful glossary template that gives the set its name, there are also many other wonderful and unique layouts that are sure to inspire you when creating your elearning projects.
Adobe Captivate Templates – Top 5
1. Early Morning
First place again? Talk about major success! This eye-catching template set is beautiful and creative, and it's fully responsive in Captivate. We love these templates and so do many of our users, so it's safe to say that you really can't go wrong with this one.
2. Dark/light fluid boxes
It looks like quite a few of our Captivate users are enjoying the fluid box feature. With that in mind, we designed our Light and Dark Fluid Box template sets, and we're happy to see that many of you find them useful!
Check out the demos here – Light Fluid Boxes template and Dark Fluid Boxes template .
3. Light responsive
Another template set that has been getting a lot of love for the second year in a row is Light Responsive. With 23 templates to choose from, this set really gives you a lot to work with and its clean and modern design will suit many different needs.
4. Glossary
The Glossary template was one of the favorites among our Storyline users and has also made it in the Captivate TOP 5. Clearly, many of you are attracted to this practical and gorgeous set which is enhanced by lovely icons as well as a pop of color that is just right!
5. Urban Walk
Hooray! Another one of our newest template sets has made it in the TOP. There's undeniably something special about the look and feel of these templates, and with so many layouts to choose from, you are sure to find something that's perfect for your elearning content.
Trivantis Lectora Templates – Top 5
1. AML
Yet again, the Anti Money Laundering template set proves its worth. Money laundering and similar topics are still a big part of elearning for businesses, and this set was designed with this specific need in mind.
2. Cakes
This yummy and cheerful template set has caught the attention of many Lectora users, and rightfully so. Don't let the fun and careless look fool you – this set actually contains many useful layouts for presenting text, images and data.
3. Adventure Orange
Our Lectora users have also gotten a taste for adventure this year – this neat template set is incredibly versatile and can be a real lifesaver if you need to structure large amounts of information.
4. Construction
This template set may not be big, but its power lies in the fact that it's designed for a specific purpose. There are very few elearning professionals who haven't been asked to create training about safety in the workplace, and the Construction template set can serve as a great base for this type of training.
5. Branching
A Branching scenario can be a great way to teach learners soft skills by simulating real-life situations and allowing them to see the consequences of their choices. However, these interactions are notoriously difficult to build. This is where we come in – with a fun character and visual progress bar in place, all you have to do is insert your own content and you're good to go!
STAY TUNED
That's it, folks! Did your favorite make the list? Or maybe you're still looking for that perfect template set? If so, feel free to explore hundreds of templates in our library. And we are already working on some great new stuff too – more templates, customizable courses and training videos are coming your way soon, so stay tuned!