We have been following the E-learning Heroes weekly challenges for quite some time now. The wonderful Articulate community always comes up with great inspirational examples, and we try to share our ideas whenever we can spare the time.
Rube Goldberg Machine
The challenge was to create a simple animation inspired by a Rube Goldberg machine, where the next the action of each triggers the initiation of the next, eventually resulting in achieving a stated goal. Yet again, the community didn't disappoint and submitted some very interesting ideas.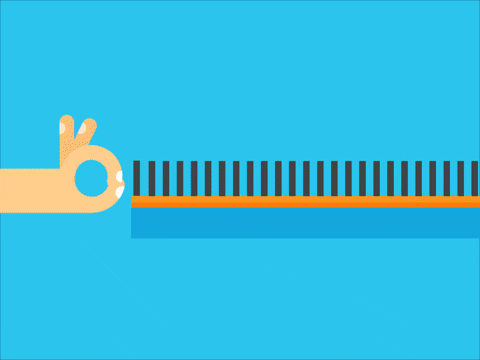 Motion Path Triggers
We created a similar example to Rube Goldberg machine by using motion path triggers. This functionality allows users to create a movement based on an action happening in the slide. Once you add a motion path to any object, the trigger is automatically added and you can easily change the action.
In this case, we created a trigger that creates a movement path when one object overlaps the other. So when one object intersects any of the points in the slide, an action takes place. If you want to learn more about motion path triggers in Storyline you can check out this article – The Key to Working with Motion Path Triggers in Storyline 2.
Our example
In our example, we explore some fun facts about airports. The interaction features a marked path with several 'stops'. An airplane travels along the path and a fact is shown every time the plane reaches a stopping point. When a pop-up is closed, the plane moves on to the next stop. For a bit of fun, we also added simple animation effects to each illustration. Feel free to take a look at the full demo of this example.
Download for free
We want you to able to learn from the examples you see, so feel free to download this course example and see how we set up the triggers and actions. The necessary font you can download here from Google Fonts. You can use this example for your own projects, but only for non-commercial use. If you would like to use this Storyline template for commercial use, please consider subscribing to the FasterCourse template library.