Last year was full of surprises, but one thing is constant every year – our annual template TOP! We've analyzed the data and the results are in, so keep reading to see which Storyline templates were the most popular among our users in 2020.
1. Monday Info Storyline Template
We are happy to see that the Monday template set has won so many hearts! The minimalistic design approach combined with various modern new layouts is exactly what our users have been looking for. This template set allows your learning content to stand out providing clean and tasteful slide layouts for all types of information.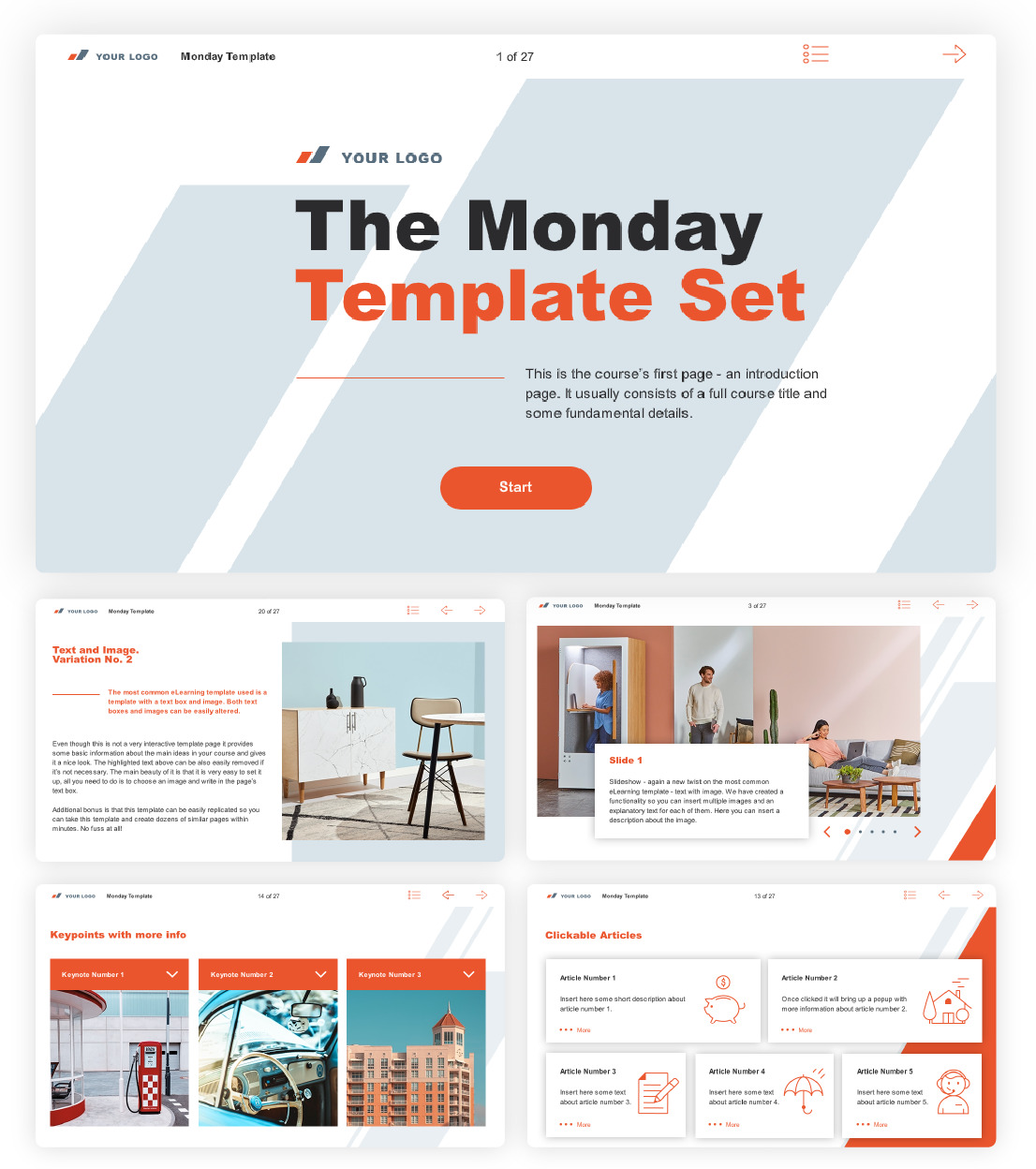 2. AML Storyline Template
Our Anti-Money Laundering template set has been going strong for several years in a row, proving that this specific theme is still topical for elearning. This template set is a smart choice if your training deals with finance-related topics and requires you to present lots of information as well as great amounts of data.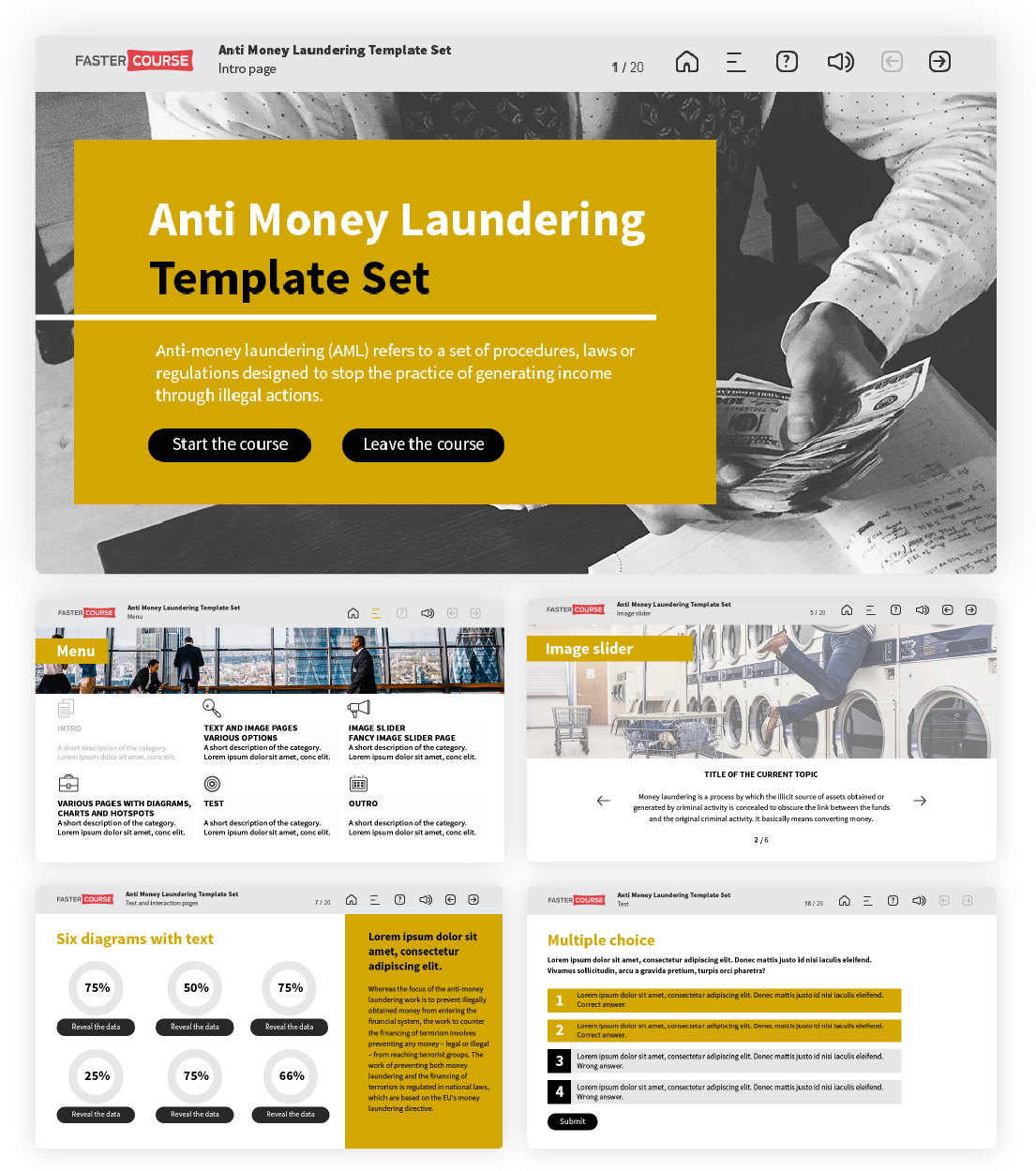 3. Corporate Mind Template
Another one of our newcomers has made it to the TOP! This template set is a great choice if you plan to create courses about banking or finances, but it will definitely look good with any other topic too.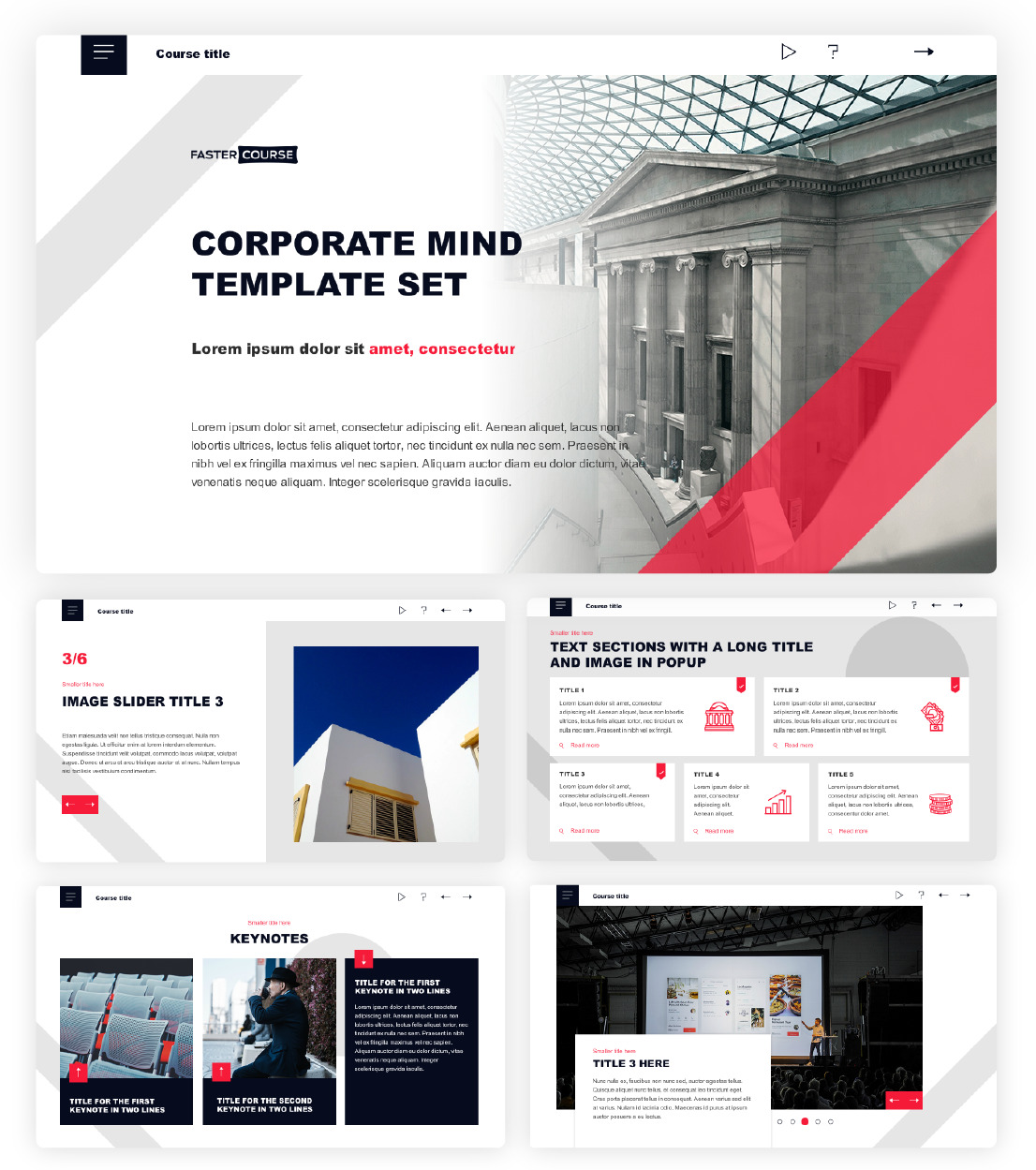 4. Emerald Island Template
This is one of our most extraordinary template sets and I'm happy to see that our users are not afraid to stand out! You can easily change the emerald green color to any other color and it will still look great.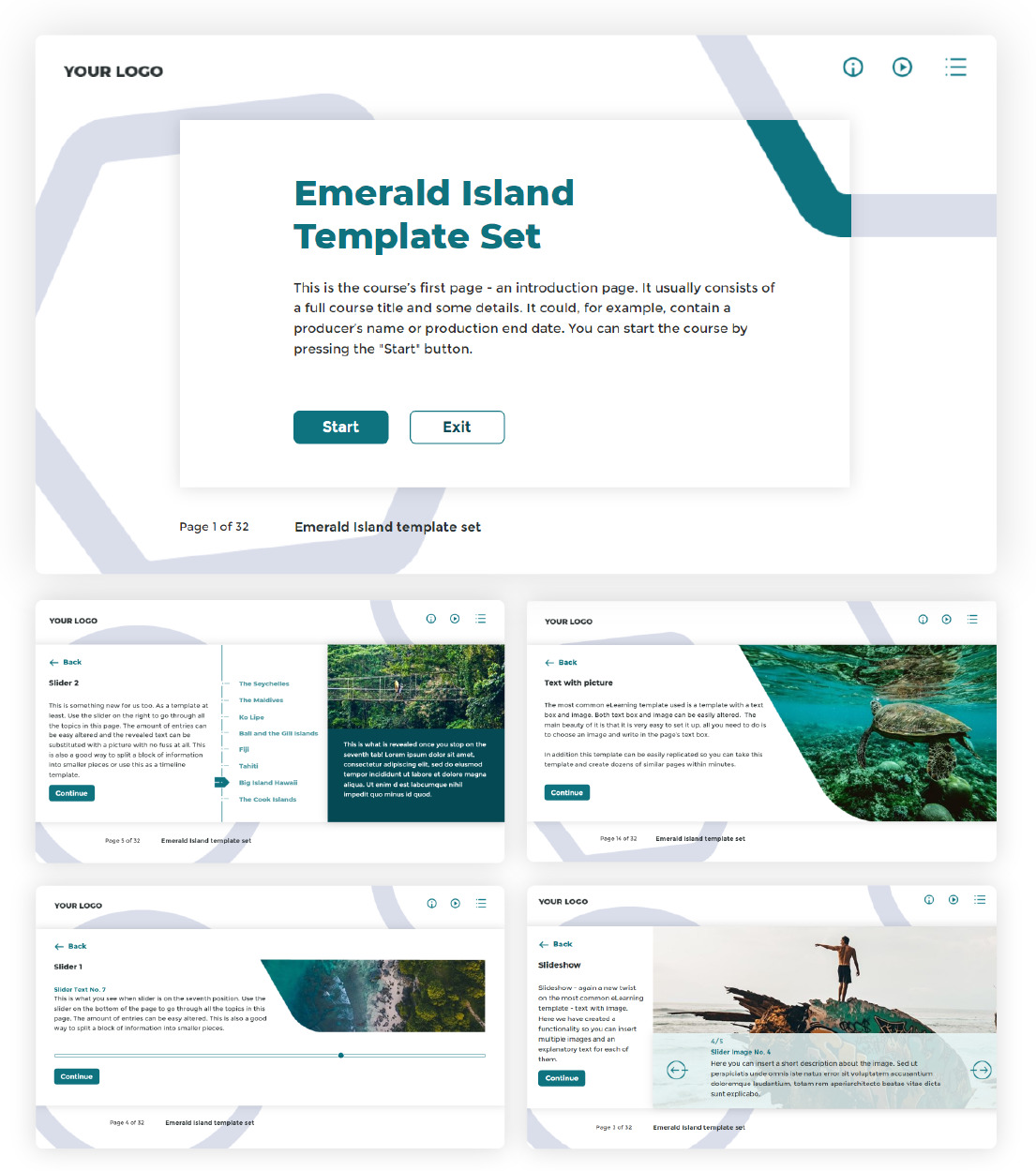 5. Adventure Orange Template
This template set is staying in the TOP for the past few years and there is no wonder why – not only is it good-looking and will lend itself to any topic – it's also very practical, providing great options for presenting different amounts of text and images as well as some engaging test templates.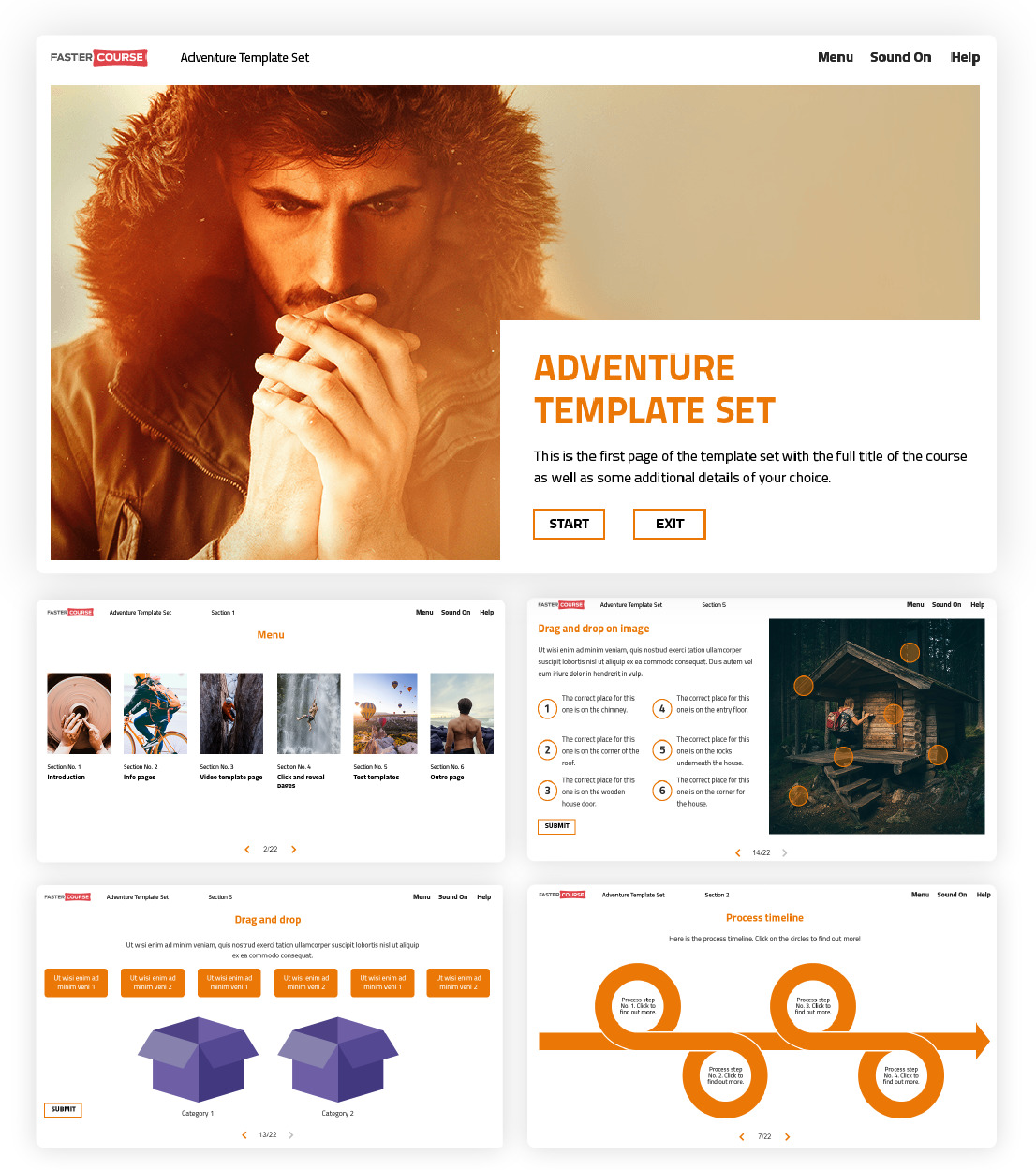 6. Vectors Template
This year we updated Vectors – one of our all-time favorite template set with some new interactions and layouts and we are happy to see that it has won your attention! This template set is a smart choice for any course development because it offers many layout variations and test slides aswell.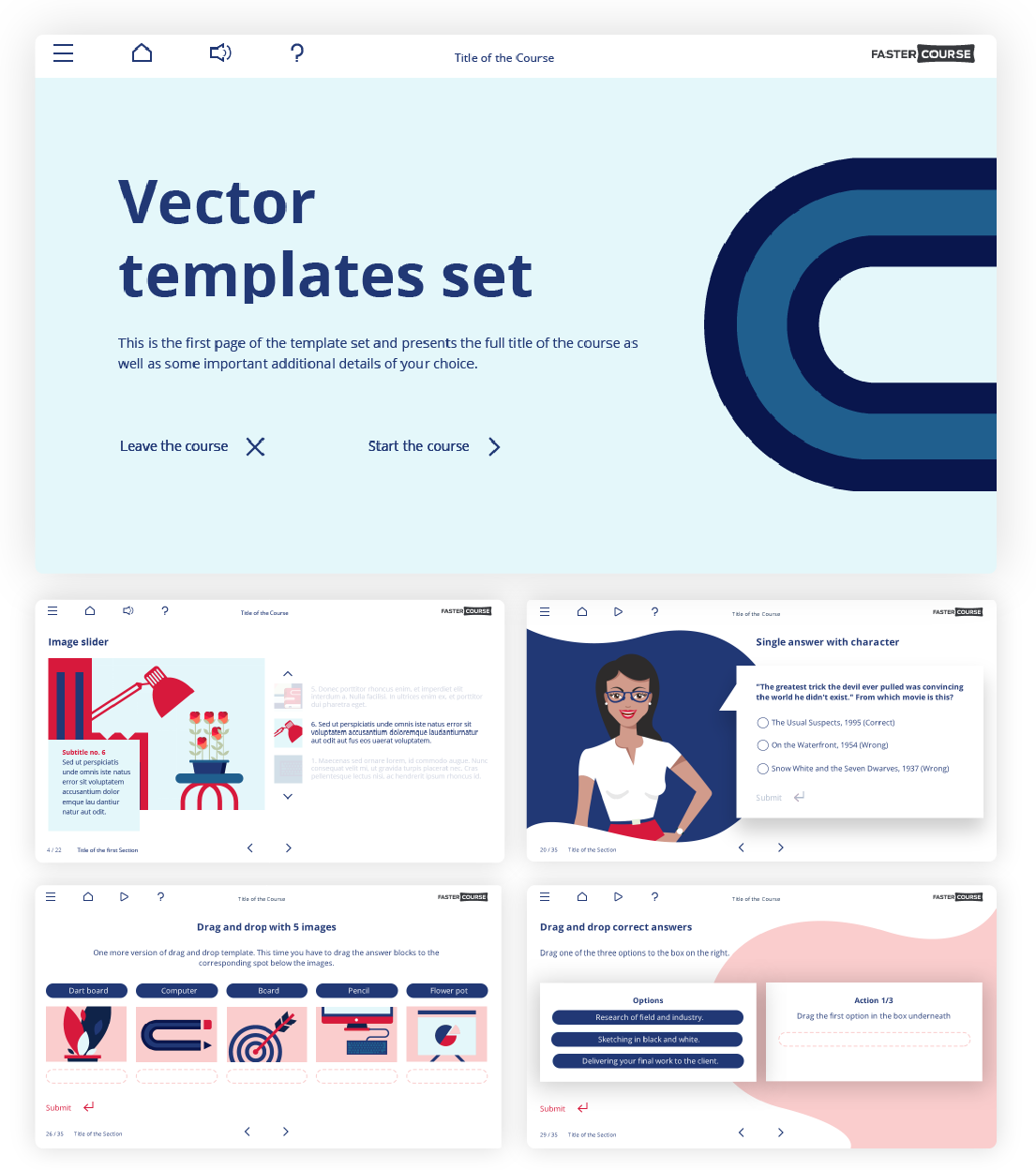 7. Adventure Purple Template
Although the orange version is a bit more popular, the Adventure Purple is not far behind. We created two versions of our popular Adventure template and we are happy to see that both of them got into the TOP list of our most used template sets this year!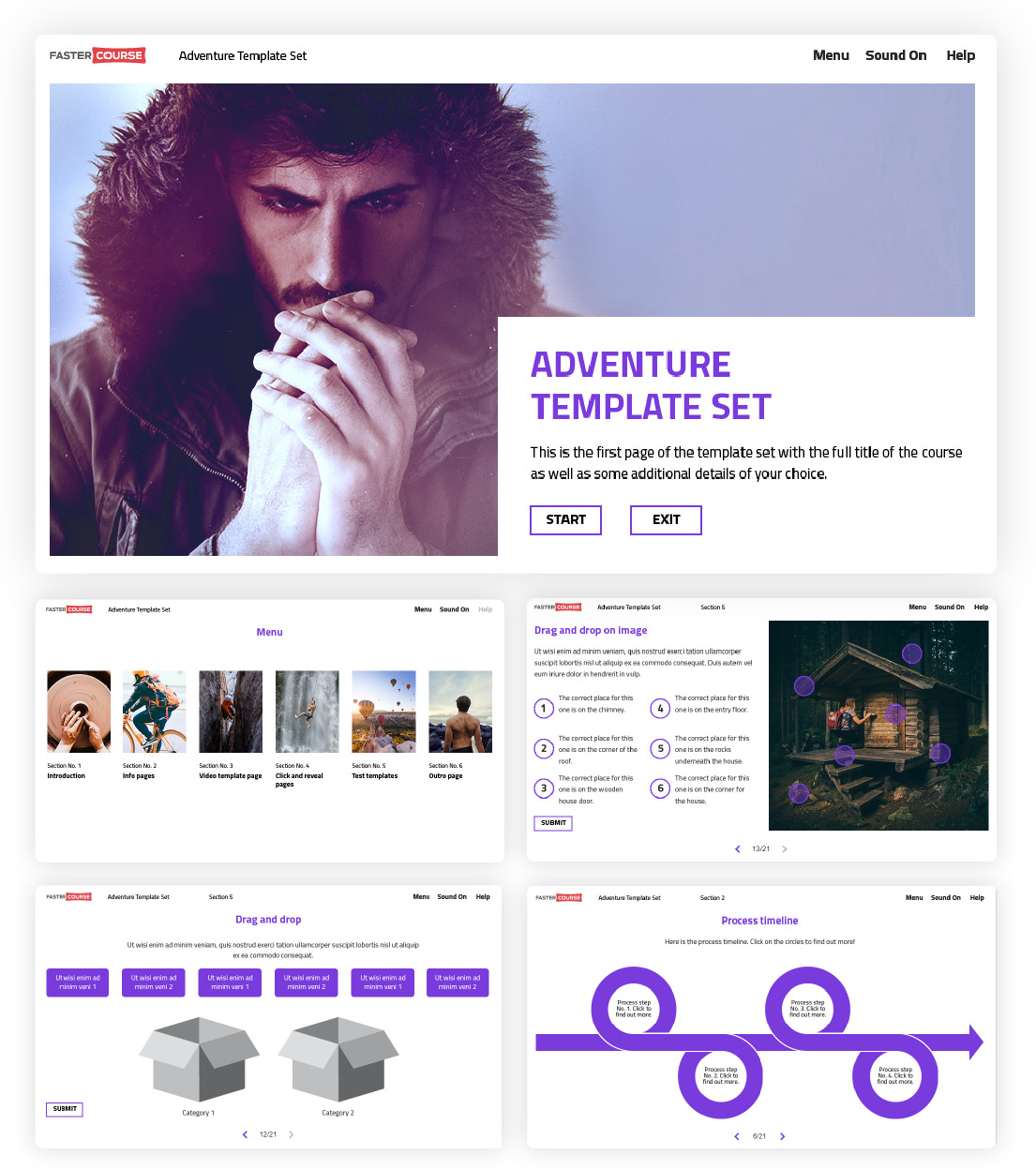 8. Early Morning Template
Last year's number one template set has found its way into this year's list as well! And it's no wonder – these beautiful and vibrant templates offer many great options for structuring information in interesting and engaging ways. The set also includes several test templates, making this a great choice for any elearning project!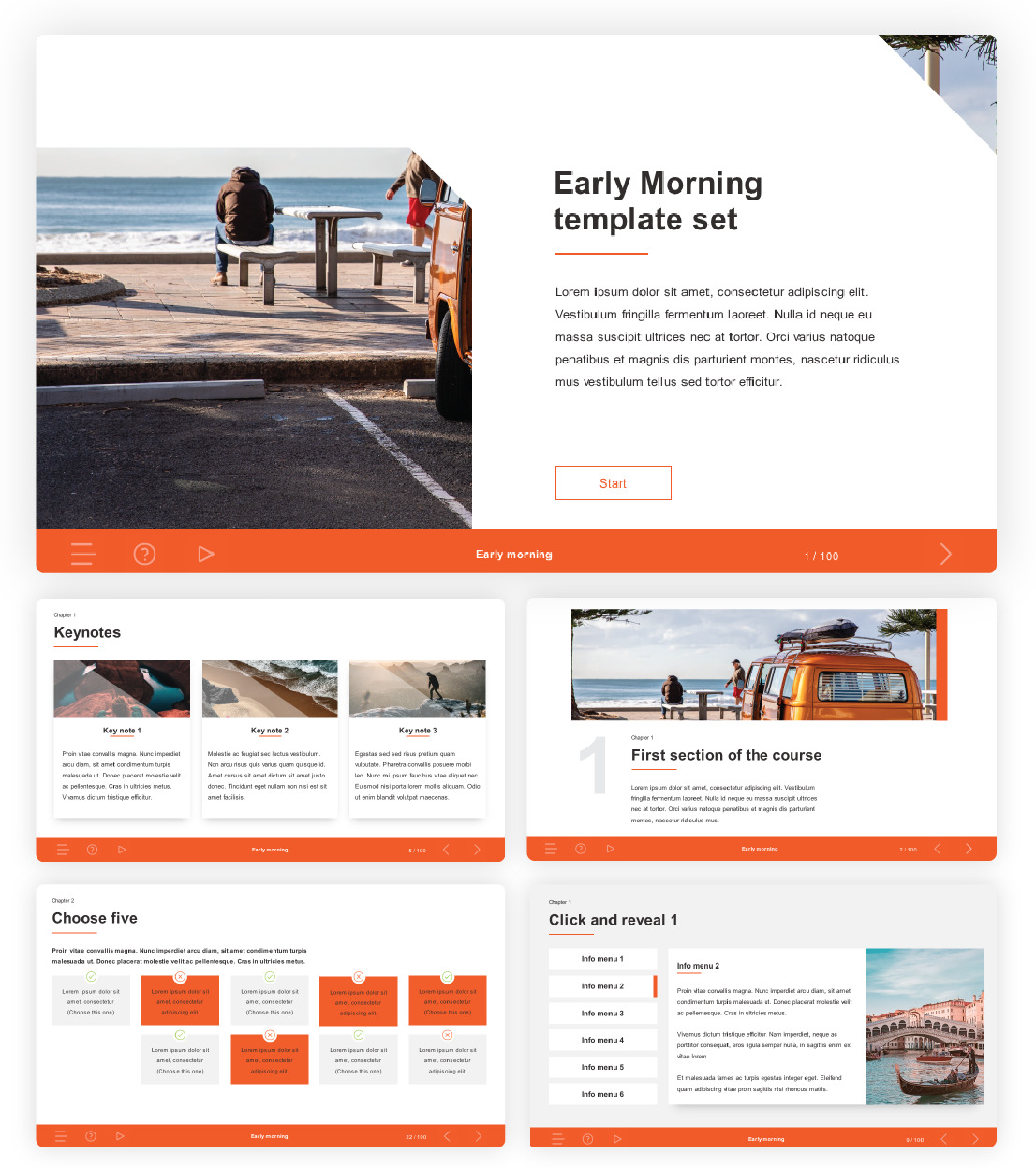 9. Urban Walk Template
Urban Walk is a popular choice among our users ever since we launched it and this year we upgraded it with more slides and interactions. There's undeniably something special about the look and feel of these templates, and with so many layouts to choose from, you are sure to find something that's perfect for your elearning content.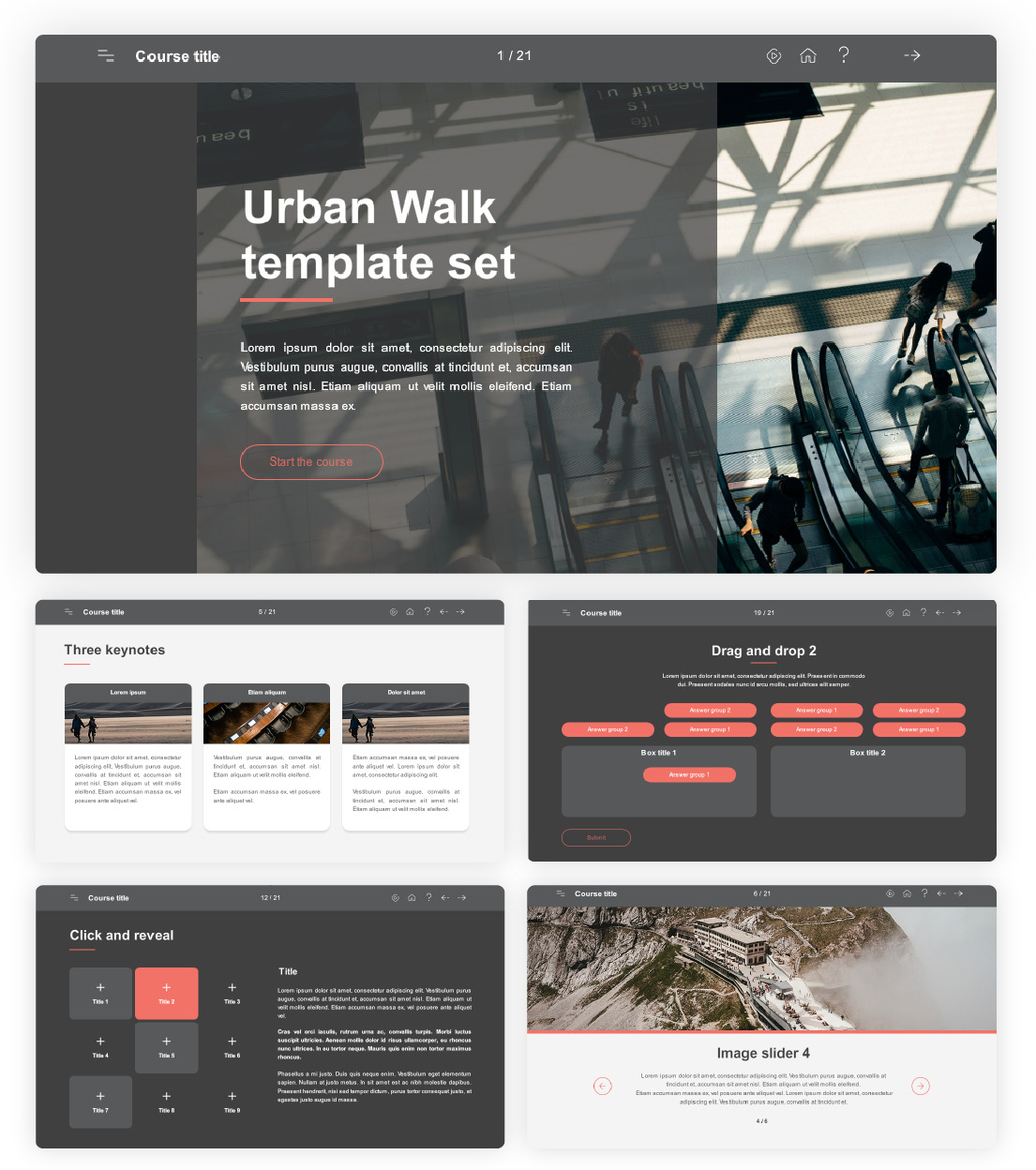 10. Glossary Template
Finally, the Glossary template set takes the final spot in the Storyline TOP 10. Apart from the extremely useful glossary template that gives the set its name, there are also many other wonderful and unique layouts that are sure to inspire you when creating your elearning projects.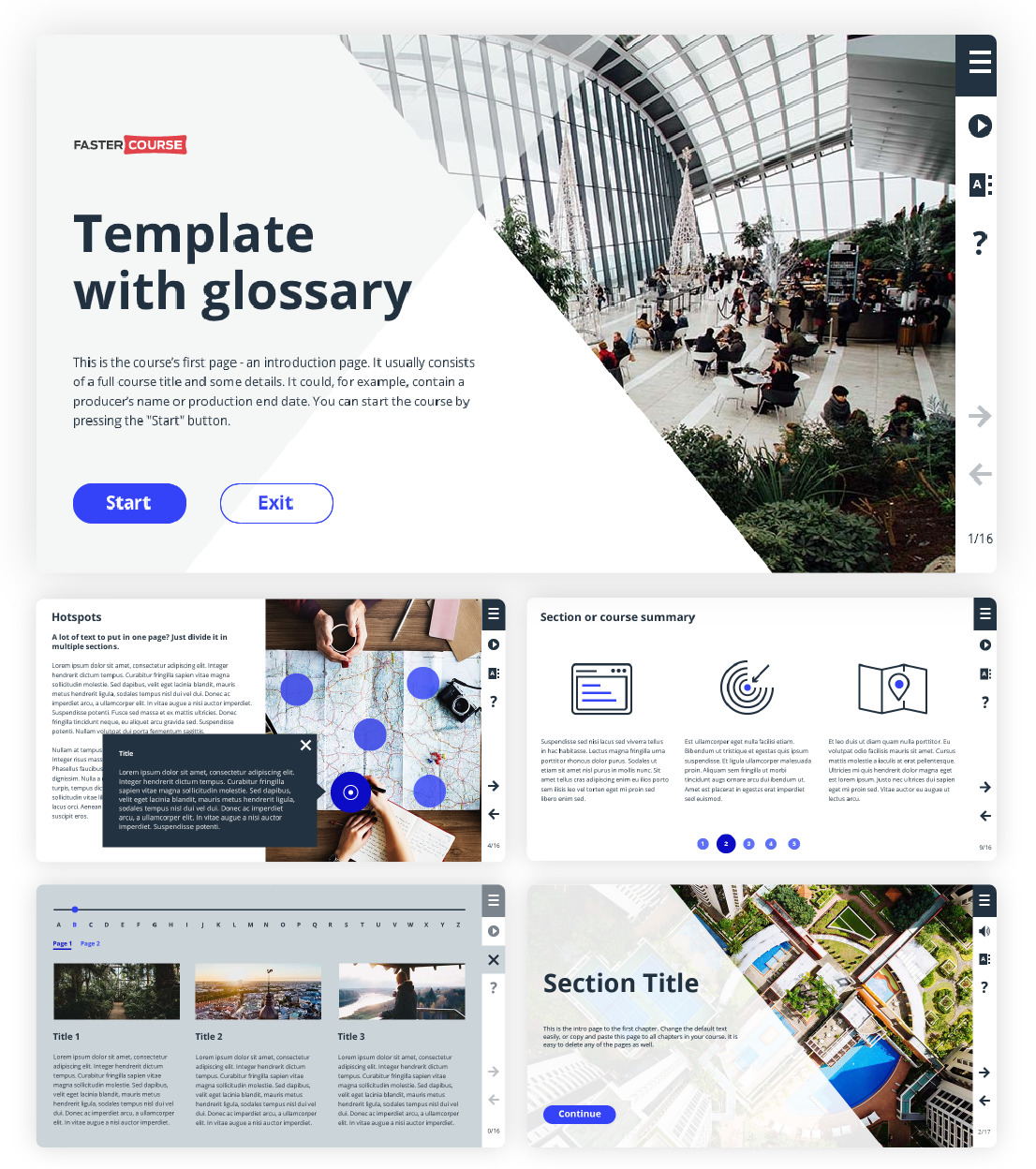 STAY TUNED
That's it, folks! Did your favorite make the list? Or maybe you're still looking for that perfect template set? If so, feel free to explore hundreds of templates in our Storyline library!