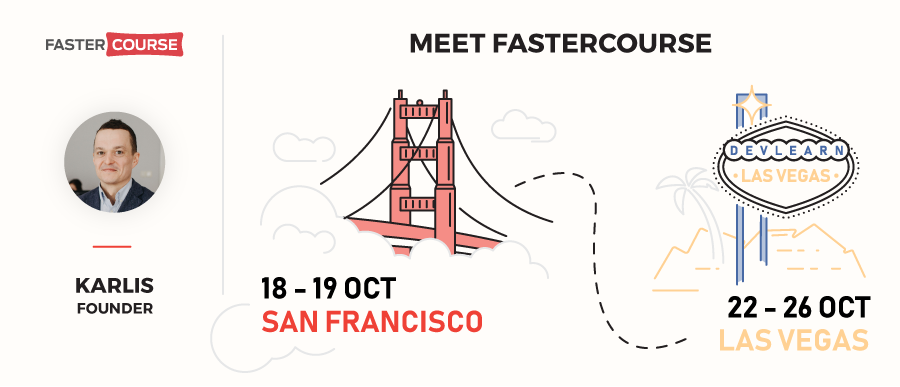 This year FasterCourse is going to be a part of one of the largest e-learning events – DevLearn! I will be traveling to Las Vegas to meet everybody and to learn more about learning and development and the newest technologies and trends used by many companies today.
DevLearn is a yearly conference organized by eLearning Guild that attracts learning professionals from all around the world. Learning activities and keynote speakers are only one part of DevLearn. The important part of this event is that you can join in conversations with eLearning professionals and create a lot of new contacts and that is always important in any field. The community behind learning is stronger than ever and it feels good to be a part of it.
And frankly I just want to meet you – FasterCourse users, get some feedback and have some fun. If you have time and want to meet me and other FasterCourse users and learn what is going on in FasterCourse and what new e-learning resource ideas we are working on now. I'm going to be in the DevLearn conference from 22nd of October till 26th of October and I will be more than happy to meet you for a coffee or a beer. On my way there you can also meet me in San Francisco between 18th and 19th of October. Drop me a line at karlis@fastercourse.com and we will arrange a meeting either individually or a public meetup for everyone who is interested.
Have a great week everyone and I hope to meet you all there!
Karlis,
Founder of FasterCourse