Are you having too many projects and you are wondering how you could improve your development process and earn more? Well, we can show you one way how to achieve both – how you can get more free time and how to earn more by creating elearning projects you like.
We have created a course template library that you can use to build your courses. Course templates are like off-the-shelf courses that you can simply personalize to your or your client's needs. The best part is that you can use them forever and for as many clients as you need.
We gathered the data about how much time we use on each step of the elearning development process and how it could be optimized by using course templates.
How you can earn $375 per hour creating elearning courses from course templates
In this video, FasterCourse founder Karlis will explain how you can easily optimize your development process and earn more by using course templates.
Development time
We have been recording data about our elearning development processes for about 5 years now. Of course, each elearning project is different and unique, but most of the time the development time is distributed like this –
60% Instructional design
15% Graphic design
20% Development
5% Delivery and LMS testing
Course templates allow you to start your elearning development with 95% ready content that you simply need to adjust and personalize to each client. This way you will be able to create a course that would usually take about 200 hours of development, in 40 hours and your hourly rate will significantly increase.
So for example, if you have an elearning project with a $15 000 budget, usually you would spend around 200 hours on development and your hourly rate would be $75. If you use course templates, then you need to spend around 30 hours on development and 10 hours on testing and delivering the course to LMS. This means that your hourly rate increases to $375 per hour. Easy as that.
What are course templates?
We created course template library for freelance instructional designers who want to start their own business. Traditional elearning templates only provide layouts that you can use to build your e-learning. Off-the-shelf courses have all the content, but you can't do anything to adjust them. Course templates fall somewhere in the middle – we've provided relevant content and visuals, but you can make any changes you want in your authoring tool (Articulate Storyline or Adobe Captivate).
This means that you can use the product as it is, but you don't have to. Want to delete, add or rearrange something? Or maybe change the colors or images? Need to make the content more specific to your company? Feel free!
With our course templates, we aim to help you and save you lots of time, but we don't want to limit you in any way. This means you can still work your magic and make each course exactly what you want it to be!
How does the course templates work?
First, you choose which course template you want or you can purchase the whole library and use all of them. Then you download a source file in Articulate Storyline or Adobe Captivate. You can freely edit any content and add your own information and branding. Then, once you are done editing, you can export the course template to SCORM, xAPI, HTML or any other format and send it to your client. It's easy and fast!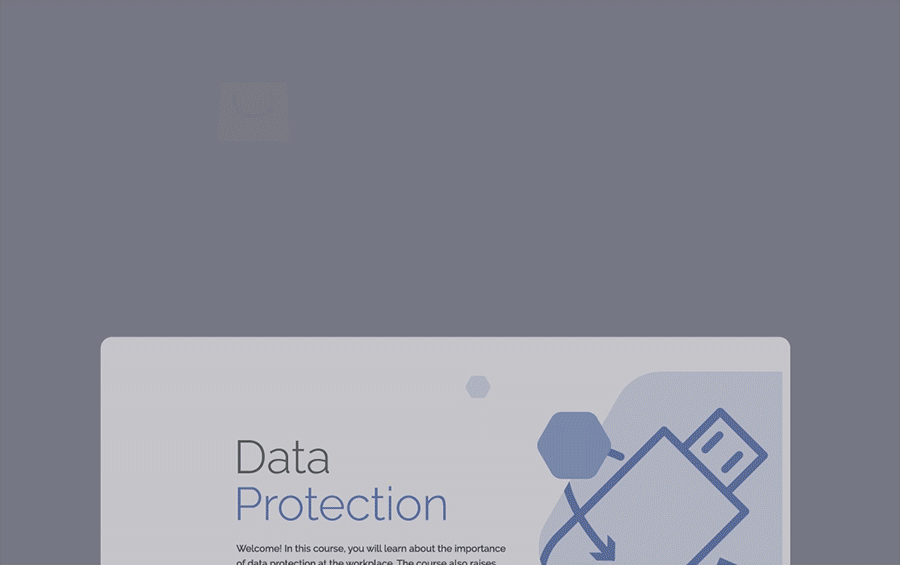 What our clients say about course templates
We have wonderful clients who have shared their thoughts about how course templates have helped them. They appreciate the simplicity of the course templates and how easy is to edit and use them.
Stellar product! I am really impressed with the instructional design that went into the courses. It only took me one look through to see how you've built the courses and I greatly appreciate their simplicity. I think you all did some exceptional work with these course templates!

Amanda
All of our clients are pleasantly surprised about the instructional design we have put in our course templates and how quickly they can be adapted to their or their client's needs.
The courses already have a solid ID and expertise content that allows our customers to quickly enrich their elearning catalog and even use them in blended programs.

Hugo
Of course, you can buy each template separately (although you can get 15 course templates for the price of 5), but if you need to create a course about a specific topic that you can find in our library, then it will still save you a lot of time and money and you will be able to deliver a complete course in days.
The high-quality course templates from FasterCourse are great for rapidly customizing pre-built courses according to your individual needs.
As a company specialized in digital learning we have high quality demands, which were fully met by the FasterCourse Fire Safety template!

Michael
We are happy to see that our course templates have helped so many instructional designers to kickstart their own business with a complete elearning library. Join our customers and explore our course template library with 15 different topics like Sale skills, Customer Service, Workplace Harassment, Data Protection, Negotiations, Business Ethics, Fire Safety, etc.
Click below to take a closer look at all course templates we've produced so far, and don't hesitate to contact us if you have any questions!