Articulate Storyline templates, games and characters
Everything you need to deliver interactive and good looking elearning course in days.
Get things done
Our Storyline templates are here to make your life easier. They have modern design and various prebuilt interactions, so you wouldn't have to worry about layouts and actions.
Add your colors, texts and images and create your next elearning masterpiece with ease.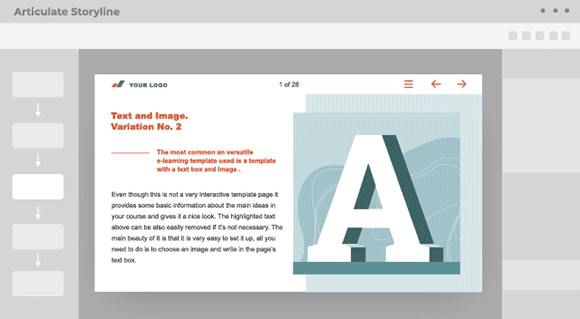 Storyline Template Library
With the annual Storyline Library subscription, you will get all template sets, games and characters.
Articulate Storyline Templates
Course starters, tests and click and reveal templates will allow you to build modern looking e-learning courses for every taste.
We have been using FasterCourse elearning templates for the past couple of years now and they are amazing!
Victoria Darnbrough
Learning and Development Specialist with Aviso Wealth
Articulate Storyline Games
Use our Storyline game templates to build fun and engaging courses for your learners!
Your templates allow me to focus on instructional design and not graphics which is a time saver!
Raquel Johnson
Learning Experience Architect
Illustrated Characters
Source files included, so you would be able to customize characters to match your needs perfectly.
How does the subscription work?
Pricing options
Get access to Storyline templates or choose one of the extensive libraries.
Don't miss out our special offer – Storyline library only for $349 (regular price $499) and full elearning library for $549 (regular price $799). Offer valid until March 23, 2023.
All Storyline Template Sets






+ Email Support
All Storyline Template Sets
All Storyline Games
All Illustrated Characters




+ Priority Support
Storyline Templates + Games
Captivate Templates + Games
Lectora Templates + Games
Access to Captivate Training videos
All Illustrated Characters

+ Free Onboarding Call
+ Priority Support
About Storyline templates
Got questions? We have answers.
Can I change logo, colors and everything in these templates?
Absolutely, these are TEMPLATES! You are welcome to use them any way you like, add your logo, change colors, add texts, images etc.
Feel free.
Can I use these templates for commercial purposes?
Yes, you can use the templates for commercial purposes, build your courses, sell your courses etc. But you cannot resell our templates. That would not be cool.
Do I get the new templates for free after subscribing?
Yes, all our current subscribers get all of the new templates for free, as long as they have active subscription.
Can I get an offer for my team?
Of course! Let us know how many teammates you have and we will give you team discount to our template library. Contact us
here
.
Do I need an Articulate License to work with these templates?
You will need an active Articulate Storyline 2, Articulate Storyline 3 or Articulate Storyline 360 license to work with these templates.
Will I be able to use templates after my subscription has ended?
Yes, you will be able to use all files that you have downloaded during the subscription period.
Can I get a monthly subscription?
Unfortunately, no. We sell downloadable products and you could download everything on the first day.
Is my subscription plan automatically renewed?
Yes, your subscription will renew automatically unless you cancel this option. We will send you two notification emails before the renewal.
When can I cancel my subscription?